Evaluation and distribution
Evaluation using Slit Lamp
The cornea is evaluated under the slit lamp. It enables the ophthalmologist / eye bank technicians to study the layers of the cornea individually (Epithelium, Stroma & endothelium) to identity Corneal defects. The slit lamp view helps assess the qualitative strength of the endothelium (the inner layer of the cornea) and decide its utility for Penetrating Keratoplasty, therapeutic use, or for research and training purposes.
Cornea Evaluation under Specular Microscope:
Endothelium is the innermost layer of cornea and is primarily responsible for the quality of the vision after a cornea grafting surgery (PKP). The assessment of the endothelium becomes important to decide the utility of the tissue. The Specular microscopy allows direct high magnification of the endothelial cells and consequently better judgment of its status by counting the number of cells / mm square.
Endothelial cell analysis:
The endothelial cells of the donor cornea can be viewed under a Specular microscope to analyse :
Cell density–ideally it should be > 2000 (PKP)
o Hexagonality of the cells which should be more than 50%
After excising the cornea, it is superficially evaluated under the slit lamp for grading.
Excellent
Very Good
Good
Fair
Not suitable for surgery
After passing through all these tests a tissue is certified as suitable for transplantation by the Medical Director of EBSR.
Maintaining proper track records for the utility of the tissues is very important for Eye Banks to analyze the rate of utility, and to initiate research. The documentation also helps to review our statistics and eye banking mechanism. The documentation will be useful in writing proposals and producing reports to various organizations.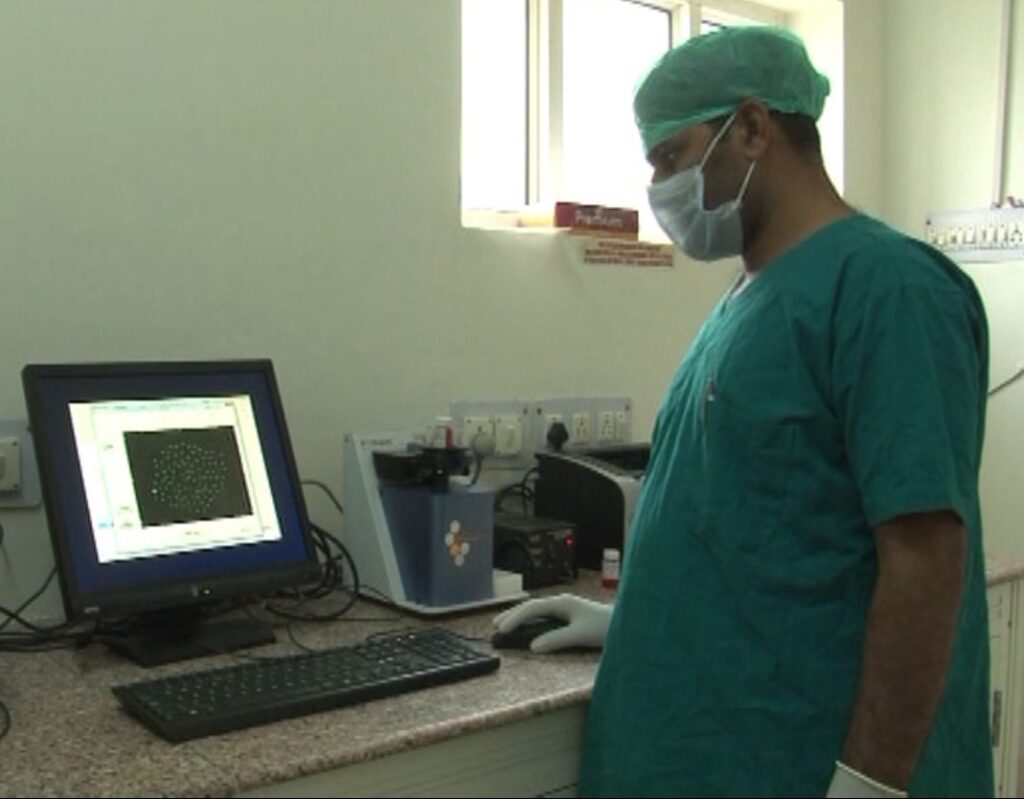 The corneas received in EBSR and which are certified as suitable for transplantation are distributed on first come first serve basis as per following priority:-
To the Government Hospitals in Rajasthan.
To corneal surgeons of Rajasthan, registered under HOTA.
Remaining corneas are offered to Ophthalmologists of other States through the Central Distribution System (CDS) managed by SightLife.
 In order to maintain transparency in distribution, two whatsApp Groups have been formed:-
EBSR Raj cornea Group in which Ophthalmologists from all Govt Hospitals in Rajasthan, who are undertaking corneal grafting are included.
EBSR Cornea Group, in which all private Ophthalmologists in Rajasthan, who are registered under HOTA are included.
 As soon as quality of a cornea is ascertained and if it is found fit for grafting, the information with relevant details is floated in the respective groups as per above stated priority . Whosoever demands it first, the cornea is supplied to him, keeping in view standard prescribed parameters.   
Hospitals & corneal surgeons, receiving tissues from EBSR :
| S.No. | Hospitals | Number of corneal surgeon |
| --- | --- | --- |
| 1 | Govt. Hospitals in Rajasthan | 17 |
| 2 | Pvt. Hospitals in Rajasthan | 26 |
| 3 | Hospital Outside Rajasthan | 52 |